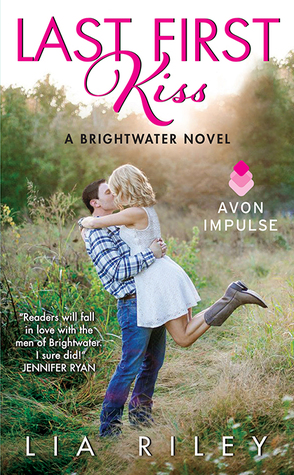 Synopsis
A kiss is only the beginning…
Pinterest Perfect. Or so Annie Carson's life appears on her popular blog. Reality is… messier. Especially when it lands her back in one-cow town, Brightwater, California, and back in the path of the gorgeous six-foot-four reason she left. Sawyer Kane may fill out those wranglers, but she won't be distracted from her task. Annie just needs the summer to spruce up and sell her family's farm so she and her young son can start a new life in the big city. Simple, easy, perfect.
Sawyer has always regretted letting the first girl he loved slip away. He won't make the same mistake twice, but can he convince beautiful, wary Annie to trust her heart again when she's been given every reason not to? And as a single kiss turns to so much more, can Annie give up her idea of perfect for a forever that's blissfully real.
Add this book to your Goodreads shelf
Or buy the book by clicking on the following links:
Amazon US
Amazon UK
Barnes&Noble
About The Author
Lia Riley writes offbeat romance. After studying at the University of Montana-Missoula, she scoured the world armed only with a backpack, overconfidence and a terrible sense of direction. She counts shooting vodka with a Ukranian mechanic in Antarctica, sipping yerba mate with gauchos in Chile and swilling XXXX with stationhands in Outback Australia among her accomplishments.
A British literature fanatic at heart, Lia considers Mr. Darcy and Edward Rochester as her fictional boyfriends. Her very patient husband doesn't mind. Much. When not torturing heroes (because c'mon, who doesn't love a good tortured hero?), Lia herds unruly chickens, camps, beach combs, daydreams about as-of-yet unwritten books, wades through a mile-high TBR pile and schemes yet another trip. Right now, Icelandic hot springs and Scottish castles sound pretty sweet.
She and her family live in Northern California.
Website
Goodreads Author Page
Twitter
Amazon Author Page
Facebook Page
My Review
**My rating: 5 stars**
I received a copy of this book from the author in exchange for an honest review. All opinions expressed are my own.
Love, love, love this! No seriously, I adore this book. This book was funny and sweet and pulled at all the right heartstrings. Brightwater seems like the kind of place I'd want to live if I lived in small town USA.Lia's characters are refreshing. While they still share tons of similarities with your everyday romantic hero and heroine, they also managed to be completely different.
Annie is what I'm sure most moms out there feel. She tries to hide her insecurities and exhaustion behind her "all-is-fine" façade. She's amazing. I loved her so much. She's by far one of my most favourite heroine's that I've read about lately. All she really wants is to make her son's life fantastic and she's doing a pretty amazing with that. I loved the little snippets we see of her blog and even her vegetarian food sound delicious. She's all-round awesome.
Then we have Sawyer Kane. How HOT is that name? I completely had the same reaction that Annie's step-daughter (or ex-stepdaughter) had. He's pretty much everything a reader could wish for in a hero… he's the sheriff and a cowboy! I loved that from the moment he heard Annie was back in town, he set out to make her his. He knew what he wanted and he went out and got it. I also had a few ovary-exploding moments whenever he had a moment with Annie's little guy.
The whole story was amazing, from the little descriptions of the town to the conflict between the Kane's and the Carson's to pretty much everything about it.I can't wait to read more about Brightwater and the pretty amazing characters in that little town, perfect reading for that cold winters evening, or that warm summers' day. Lia Riley wowed me with Last First Kiss and I will most definitely be returning to read more of her books.