Synopsis
Todd Camford went from Marine sniper to owning a beachfront surf shop in Florida, and he couldn't be happier. Unfortunately, the programming from his training hasn't quite been eliminated. His ex called him an unfeeling cyborg, but he's a free-flying, unfettered hawk, damn it. Relationships are out of the question…
And then she comes into his shop.
Everyone knows who Abigail Kelly is—mega rockstar, tabloid fixture. Still, nothing prepares Todd for Abby's smoky gray eyes or the swift breathlessness of their instant chemistry. He'd be an ass (or possibly insane) to think he can resist her. Just for today, maybe he'll keep an eye on her to make sure she doesn't get mobbed. Because really, how much damage could one day with a super-hot, kick-ass celebrity really do?
Add this book to your Goodreads shelf
or purchase the book from the following retailers
Amazon US
Amazon UK
Barnes&Noble
About The Author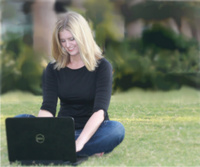 USA Today bestselling author Ophelia London was born and raised among the redwood trees in beautiful northern California. Once she was fully educated, she decided to settle in Florida, but her car broke down in Texas and she's lived in Dallas ever since. A cupcake and treadmill aficionado (obviously those things are connected), she spends her time watching arthouse movies and impossibly trashy TV, while living vicariously through the characters in the books she writes. Ophelia is the author of SOMEDAY MAYBE; DEFINITELY, MAYBE IN LOVE; ABBY ROAD and CROSSING ABBY ROAD; the Perfect Kisses series including: FALLING FOR HER SOLDIER, PLAYING AT LOVE, SPEAKING OF LOVE, and MAKING WAVES; the upcoming AIMEE AND THE HEARTTHROB for Entangled's Teen Crush line, and the upcoming Sugar City series for Entangled's Bliss line. Visit her at ophelialondon.com. But don't call when The Vampire Diaries (or Dawson's Creek) is on.
Facebook:https://www.facebook.com/pages/Opheli…
Amazon:http://www.amazon.com/Ophelia-London/…
Backstage Pass Series: https://www.facebook.com/Backstagepas…
Pinterest: https://www.pinterest.com/opheliawrites/
YouTube: http://www.youtube.com/channel/UCsInN…
Instagram: http://instagram.com/ophelia_london
Tumblr: http://ophelia-london.tumblr.com/
My Review
My rating: 4 Glasses of wine
I adored Abby Road, so of course when the lovely Ophelia London told me she was writing the story from Todd's point of view, I eagerly awaited it's release. Why? Because I fell in love with both Todd and Abby in Abby Road and I just needed to read more about it. Even though Crossing Abby Road only recounts Todd's story of that first day, it gave me so much more insight into his character. I finally understood his initial reaction to Abby, where in Abby Road, his initial reaction comes off as being a bit star-struck. Todd's character resonated to me, which I didn't experience too much of in Abby Road. Also, we get to read conversations between Todd and other characters that we didn't get to read about in Abby Road.
I loved already knowing where the story would end up, but it's also the reason why this book only gets four wineglasses from me instead of five. Knowing where the story ends up did take away some of the initial excitement, but all in all, this story gave me more, which was exactly what I craved.
Ophelia London is an amazing writer and if she could make me fall in love with a character and a story that I had basically already read and loved, well, then I just know that i'll keep going back for more of her books.